Advantages of the Hunter 9700RFT balancer
Elimination of wheel vibrations
Elimination of lateral traction of the vehicle
Accurate and fast work
Rims damage protection
It weighs only behind one spoke of the rim
It can also handle large tire diameters and low profile
Number one in balancing technique
Perfect balancing with minimal material consumption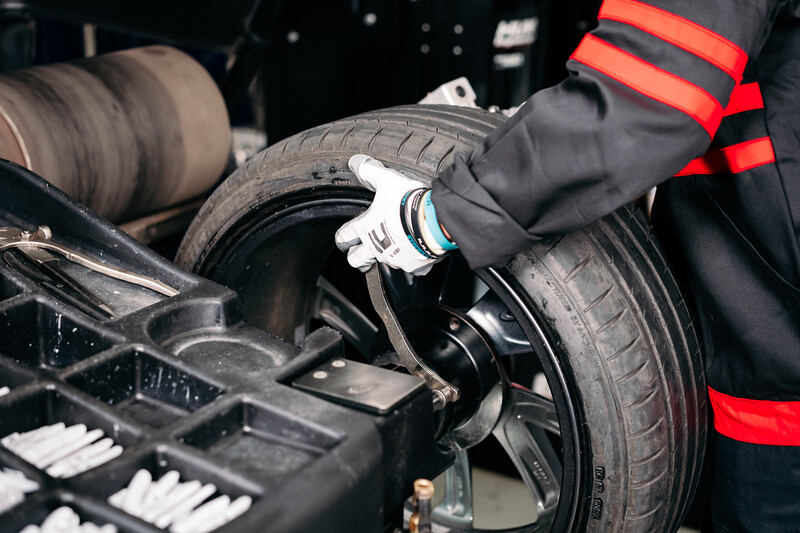 We will take care of your wheel vibrations
Thanks to the new pressure roller technology, the machine is able to simulate the driving of the vehicle, which increases the quality and accuracy of the diagnosis. During this simulation, a force of up to 567kg is exerted on the tyre, which is approximately ¼ of the vehicle's weight. This process finds the hardest point of the tyre relative to the lowest point on the disc.

Based on this finding, the tyre is rotated on the disc to connect these points. The correct positioning of the tyre in relation to the rim then ensures the best result. Accuracy is further enhanced by a centering system that optimizes the centering and fit of the wheel on the balancing device. This also protects the rim from damage.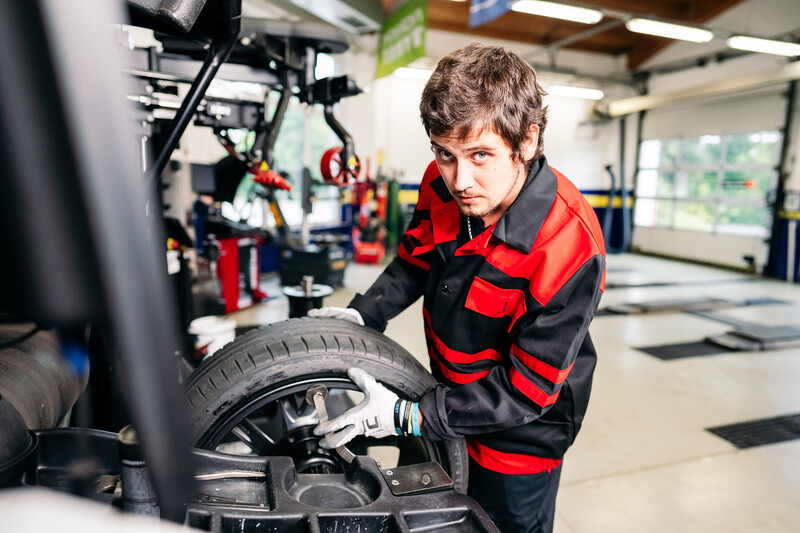 How does the wheel balancing process work?
An unbalanced wheel transmits vibrations through the steering column to the steering wheel, making the driver uncomfortable. Thanks to the pressure cylinder balancing device, we can measure the radial forces very accurately.

The balancing device with force measurement suggests the optimum positioning of the tyre in relation to the wheel. The radial forces that cause vibrations are minimised and you can enjoy a comfortable, vibration-free ride again.
Find your branch
Brno - Vinohrady
Mokrá-Horákov
Brno - Slatina
Brno - Vinohrady
Jedovnická 11, 628 00 Brno
Mon-Fri 7:00 - 17:00
+420 544 216 353
vinohrady@tasy.cz
Types of vehicles we service:
Passenger car
VAN
Services offered by the branch:
Car diagnostics
Ecological tyre recycling
Tyre repairs
Selling tyres and spare parts
Wheel alignement
Brakes and shock absorbers tests
Mechanical repairs
Preparation for techncial inspection
Adjustments and renovation of lights
Air condition service, disinfection and cleaning
Battery test and change
Oil, filter and coolant change
Tyre change
Tyre hotel
Replacement of shock absorbers and exhausts, distributors and brake pads
Mokrá-Horákov
Mokrá 358, 664 04 Mokrá-Horákov
Mo-Fr 7:00 - 17:00
+420 544 425 323
mokra@tasy.cz
Types of vehicles we service:
VAN
Agricultural
Truck
Passenger car
Industrial, EM, OTR
Services offered by the branch:
Ecological tyre recycling
Tyre repairs
Selling tyres and spare parts
Wheel alignement
Mechanical repairs
Preparation for techncial inspection
Battery test and change
Oil, filter and coolant change
Tyre change
Tyre hotel
Replacement of shock absorbers and exhausts, distributors and brake pads
Brno - Slatina
Řípská 20a, 627 00 Brno
Mon-Fri 7:00 - 17:00
+420 545 231 011
slatina@tasy.cz
Types of vehicles we service:
Agricultural
VAN
Truck
Passenger car
Industrial, EM, OTR
Services offered by the branch:
Ecological tyre recycling
Mechanical repairs
Tyre repairs
Preparation for techncial inspection
Selling tyres and spare parts
Battery test and change
Oil, filter and coolant change
Tyre change
Wheel alignement
Tyre hotel
Replacement of shock absorbers and exhausts, distributors and brake pads