Did you hit a pothole? Are your tyres slipping excessively or is your car "pulling" sideways?
Have your alignment adjusted at one of our service centres.
Why to get a wheel alignment?
Free check-up
Lower fuel consumption
Higher mileage
Smooth ride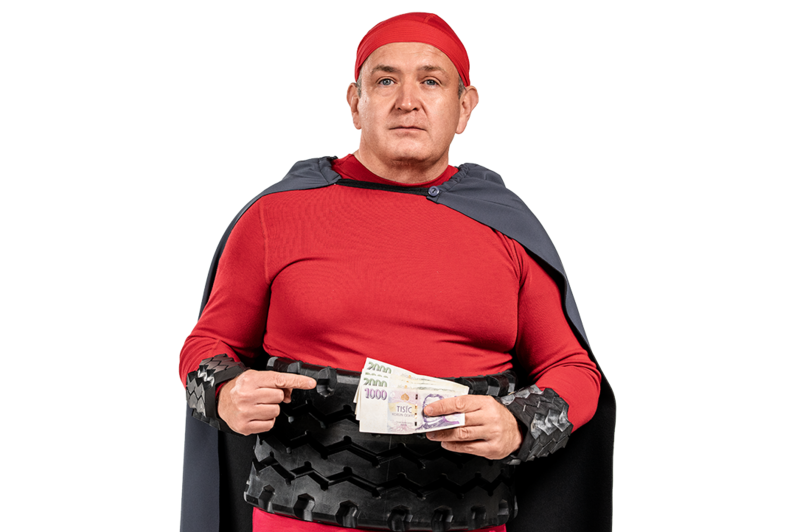 The investment for measuring and possible adjustment will soon be returned to you
Correct wheel and axle geometry ensures ideal handling, driving comfort and safety. It also translates into lower fuel consumption and longer tyre life.

On the other hand, poor alignment also has a detrimental effect on other chassis components, which are overloaded if the alignment is not set correctly. Therefore, as a precautionary measure, have the alignment checked and adjusted if necessary, preferably at each seasonal changeover.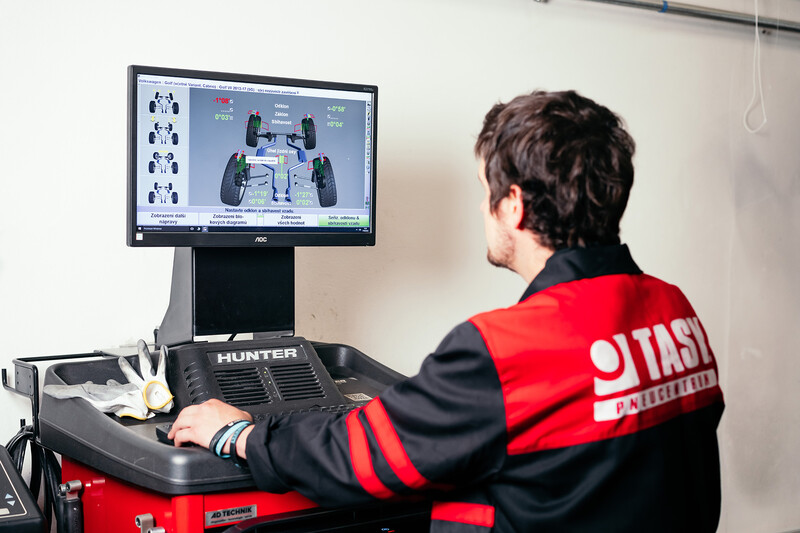 All our branches are equipped with Hunter laser diagnostics.
Our tyre shops are equipped with the latest version of Hunter digital, laser geometry.

The Hunter (USA) brand is one of the absolute leaders, using HawkEye and ProAlign geometry measurement systems that offer fast and accurate geometry measurement results using powerful HawkEye software and image processing technology.
Find your branch
Brno - Vinohrady
Mokrá-Horákov
Brno - Slatina
Brno - Vinohrady
Jedovnická 11, 628 00 Brno
Mon-Fri 7:00 - 17:00
+420 544 216 353
vinohrady@tasy.cz
Types of vehicles we service:
Passenger car
VAN
Services offered by the branch:
Car diagnostics
Ecological tyre recycling
Tyre repairs
Selling tyres and spare parts
Wheel alignement
Brakes and shock absorbers tests
Mechanical repairs
Preparation for techncial inspection
Adjustments and renovation of lights
Air condition service, disinfection and cleaning
Battery test and change
Oil, filter and coolant change
Tyre change
Tyre hotel
Replacement of shock absorbers and exhausts, distributors and brake pads
Mokrá-Horákov
Mokrá 358, 664 04 Mokrá-Horákov
Mo-Fr 7:00 - 17:00
+420 544 425 323
mokra@tasy.cz
Types of vehicles we service:
VAN
Agricultural
Truck
Passenger car
Industrial, EM, OTR
Services offered by the branch:
Ecological tyre recycling
Tyre repairs
Selling tyres and spare parts
Wheel alignement
Mechanical repairs
Preparation for techncial inspection
Battery test and change
Oil, filter and coolant change
Tyre change
Tyre hotel
Replacement of shock absorbers and exhausts, distributors and brake pads
Brno - Slatina
Řípská 20a, 627 00 Brno
Mon-Fri 7:00 - 17:00
+420 545 231 011
slatina@tasy.cz
Types of vehicles we service:
Agricultural
VAN
Truck
Passenger car
Industrial, EM, OTR
Services offered by the branch:
Ecological tyre recycling
Mechanical repairs
Tyre repairs
Preparation for techncial inspection
Selling tyres and spare parts
Battery test and change
Oil, filter and coolant change
Tyre change
Wheel alignement
Tyre hotel
Replacement of shock absorbers and exhausts, distributors and brake pads